Our price
The Tiger Facility Services cleaning at a monthly fixed price. No hidden costs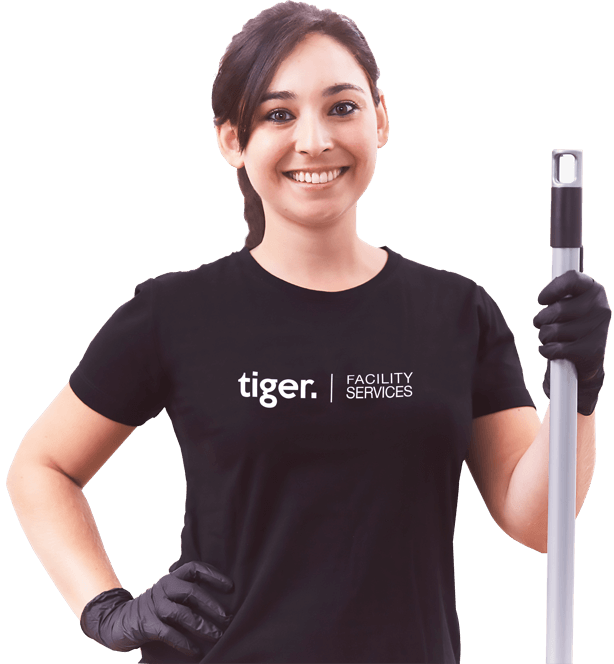 Anna
5.0
Luigi
5.0
Angelina
5.0
Maria
5.0
Dijana
5.0
Business cleaning in the digital era
Tailored cleaning from professional to professional: we combine our expertise with innovative software to ensure a customer oriented and sustainable service.
Individual cleaning based on your requirements
This is how Tiger Facility Services works
Tiger Facility Services is a trustful partner for us. We operate multiple objects and offices in Berlin, and thanks to the digital customer account, I have all services, cleaning plans and costs centralized. With the app I can message the workforce on the ground to leave instructions on a short-notice.
Tech Entrepreneur based in Berlin
Customer review
:
~1.500 m2
~ 100 employees
30x office rooms
3x / week
Interior cleaning
1.500 per month
Tiger Facility Services Price
ca. 100 employees, 30x office rooms, 3x kitchens, 6x restrooms
Extra: Hygiene Products
Simple booking overview:
You can easily manage your cleaning bookings in your customer account.
Detailed facility information:
Before and during the cleaning, our cleaners can access information on the cleaning plan, premises or building.
Performance monitoring via smartphone:
Our cleaners use their app to document their working hours and identify optimization opportunities together with us.
Messenger - In test stage:
Some cleaners can communicate with the customer directly via the app so short notice requirements can be taken into account.
Digital questionnaire for quality assurance:
A clear questionnaire guides our employees through the cleaning plan agreed with the customer.
Additional services
Our cleaning staff can perform various services which are not necessarily included in the basic package. If you have specific requests please contact our customer service. Example of extra service: monthly cleaning of the refrigerators.
Cleaning utensils
Hygiene products
Cleaning utensils
Hygiene products
Additional services with Tiger Facility Services
Did you know that Tiger Facility Services also provides extra services on top of the usual maintenance cleaning? From window cleaning to electrician or plumbery works – Tiger Facility Services is the provider for any service around your office building.
Carpet cleaning
Window cleaning
Electrician
Painting
Plumber